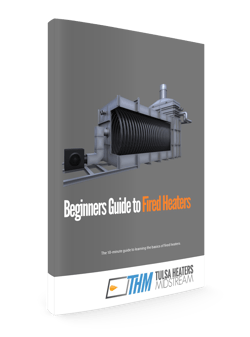 Are you responsible for purchasing or evaluating a fired heater, but not really sure where to start? We can relate because we were in your shoes once. And there are many more out there feeling the same way. Heaters just isn't one of those topics that gets covered in school or talked about around the water cooler (do people still do that?). So we created this quick guide to kick start your learning.
OUR GOAL
Our goal is to give you a base set of knowledge so that you can have a "5th grade" conversation with colleagues and vendors. We can't teach you everything in this short guide, but its enough to get you started. If you are looking for something more in-depth, make sure to check out the "Resources" page on our website for additional tools.
THIS GUIDE
This guide is based on API 560, the industry standard for designing fired heaters in many industries, including refining and petrochemicals. We'll cover various topics using the terms from the specification, including:
Mechanical components of the heater
Process design terms
Heater draft configurations
In depth knowledge of heater design can take years to obtain. And as with many other areas of study, the more time you spend working with it, the more you figure out how much you don't know. This guide was created as a first step on your learning path. The terms and concepts learned will apply to fired heaters in a variety of applications and industries, including:
Refinery heaters
Petrochemical heaters
Hot oil heaters
Regen gas heaters
For even more terms and details about fired heater design, we recommend the API 560 standard. While it's not exactly "light reading" it will give you a great idea on how to mechanically design a fired heater.