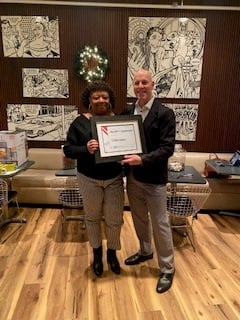 We are delighted to recognize THM employee Trena Thomas as the recipient of the 2022 Heart of a Servant Award.
About the Award
The Heart of a Servant Award is presented annually to an employee at Tulsa Heaters Midstream who shows a true commitment to selfless service and exemplifies the core values of our company. We take great pride in recognizing their hard work and dedication. They set the tone of our company culture for the upcoming year and challenge us to be better.
About Trena Thomas
Trena has been part of the team at Tulsa Heaters Midstream since 2018. Since then, she's greatly impacted the organization as a project manager and beyond. Not only does Trena handle projects with ease, but she also takes on other responsibilities.

"For Trena, the answer is always yes," said Eric Hall, director of operations. "Not begrudgingly, reluctantly, or with any hint of hesitation….. simply yes. A true team player, she embodies the heart of a servant by her willingness to wear multiple hats."

Trena's ability to masterfully lead and steer projects during this unprecedented year is a testament to her hard work and dedication to the company. Her expertise in project delivery and problem-solving was further demonstrated by her successful implementation of training programs for new employees.

"Trena has served our company in multiple ways this year in project management, purchasing, spare parts, billing, training and mentoring," said Justin Forth, president of THM. "She's never short on service to the customer or our team, her attitude is infectious and it is a true honor that she's chosen to be part of the THM family."
Trena gives all the credit to her coworkers who work hard and inspire her to want to do more.
"My entire team at THM is very helpful and we all truly work as a team," said Trena. "No task is too big or small. Everyone gives their all and that is why I love working for this wonderful company! Giving good customer service is what we do and that is what I believe in!"
Thank you for serving THM every day, Trena! Congratulations!