A HEATER WITH A THOUSAND NAMES
If you've been in this industry for more than a week, chances are you've heard one of these items:
Bath Heater

Water Bath Heater

Line Heater

Indirect Heater

Indirect Line Heater

Indirect Fired Heater

Firetube Heater

Process Bath Heater

Industrial Bath Heater

Water Bath Heater

Natural Gas & Crude Heating

Dew Point Heater

Fuel Gas Heater (Pre-Heater)

Glycol Heater

Vaporizer

Superheater
Whatever name you use or have heard for this item of equipment, turn to Tulsa Heaters Midstream.
THM INTRODUCES HYDROFLUX HEATERS
The THM HydroFlux heater line is the high quality solution for customers that desire more than an "off the shelf" product. Before we continue, let's start with the definition of indirect heater.
INDIRECT HEATER: Equipment commonly used in the oil and gas, power generation, and other industries to elevate the temperature of an isolated, closed-loop process stream (gas or liquid) by heating a bath fluid in a tank by means of firing a burner in a submerged firetube.
Combining some of the most popular descriptions of indirect heaters over the years one ends up with: Indirect Fired Water Bath Firetube Process Heater. The description nor the acronym IFWBFPH rolls off the tongue.
THE MEANING BEHIND THE NAME
Being too specific is a mouthful and proves difficult to remember, thus our conclusion why the name has gone various directions throughout the years. Some names are more popular in different regions and industries and become common lingo.
THE MOST POPULAR NAMES
| | | | |
| --- | --- | --- | --- |
| Indirect Heater | Bath Heater | Dew Point Heater | Firetube Heater |
| Indirect Fired Heater | Industrial Bath Heater | Fuel Gas Heater | Glycol Heater |
| Indirect Firetube Heater | Liquid Bath Heater | Fuel Gas Pre-Heater | Superheater |
| Indirect Line Heater | Process Bath Heater | Immersion Firetube Heater | Vaporizer |
| Indirect Oilfield Heater | Water Bath Heater | Line Heater | |
Each of the names above generally refer to the same type of indirect heater equipment. The API 12K specification was created for oilfield atmospheric heaters filled with water solutions with a removable firetube and process coil. This specification also provides recommended fabrication and design guidelines including heat transfer and structural information.
Other bath fluids are used including TEG, Amine, hot oil, molten salt, but are not covered by API 12K.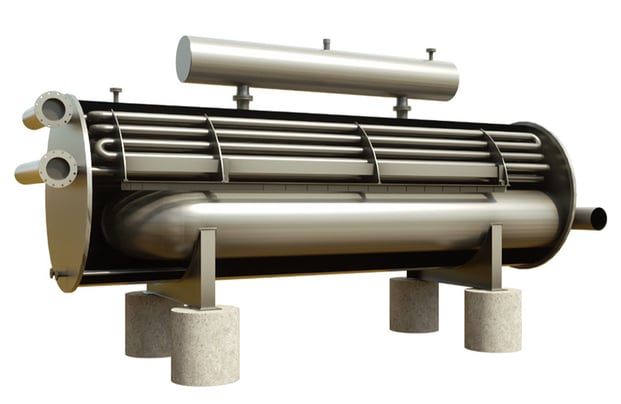 Photo: HydroFlux Indirect Fired Heater
APPLICATIONS FOR INDIRECT HEATERS
Natural gas hydrate control (Joule-Thompson)

Wellhead gas preheating prior to cutting pressure
Pipeline gas heating prior to pressure reduction
Gas storage facilities gas extraction from domes or tanks

Crude oil viscosity and paraffin control
Crude oil tank heating for RVP control
Crude oil preheat

Prior to separators or desalters
Between head and pipeline

Dew Point Control / Fuel gas heating

Heating fuel gas to protect sulfur (H2S) removal beds
Meet turbine specifications
Heating gas upstream of dehydration system at compressor stations

Heating liquid LPG/LNG for vaporization
To add to the confusion, the heaters are also often used for direct heating.
APPLICATIONS FOR DIRECT HEATERS
TEG reboiler for a gas dehydration system
Amine reboiler for a gas sweetening system
THE HEATER THAT COVERS IT ALL
HydroFlux is THM's product line that covers both indirect and direct systems.
Whatever you call them, give us a call today to discuss your unique application.