Founded in 2014, Tulsa Heaters Midstream (THM) is a spin-off from Tulsa Heater Inc (THI). Tulsa Heaters Inc. provides excellent heaters for the refinery market; however, that heater is very custom, works with very difficult processes and is extremely engineering intensive.
In 2010-2011, the refinery business was facing hard times. THI moved into the midstream gas processing sector. They set about using their experience to develop standards within the midstream industry, and the idea of a packaged heater was born.
A packaged heater is everything a customer needs in one unit. Instead of shipping only a heater, THI allowed customers to be able to purchase the burner management system and the blower that goes with it in a pre-packaged, pre-engineered set that was shipped out directly to consumers. This approach required very minimal effort to put together in the field, cutting down on the time it took to get up and running. THI worked hard to develop this market and set new standards within the midstream industry.
Around the time that THI finished developing the market, the refinery industry was starting to recover. Rather than abandon the progress they had made in the midstream industry, they determined it would be effective to create a dedicated team to support the new product line.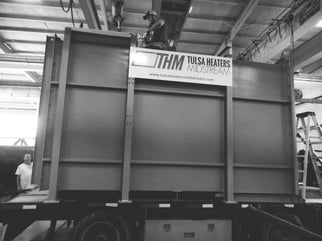 In 2014, Tulsa Heaters Midstream was created with the sole purpose of addressing the midstream market. THM took the standards that THI had created and worked on growing the business. With a background in the demanding refining and petrochemical sector, THM took critical elements of the API 560 heater and worked to figure out how to use them in the midstream market.
Up until this point, that had never been done before. This is an advantage and gives THM's heater products a true differentiation. THM's heaters provide customers with the opportunity to get their projects off the ground quickly and affordably. THM's customer base grew with new and repeat customers, and this success accelerated the company's growth and helped THM get to where they are today.