Justin Forth has transitioned from vice president to president of Tulsa Heaters Midstream. Justin succeeds Doyle Bishop, who will remain as a business partner of THM in a strategic consulting role and continue to service key client accounts.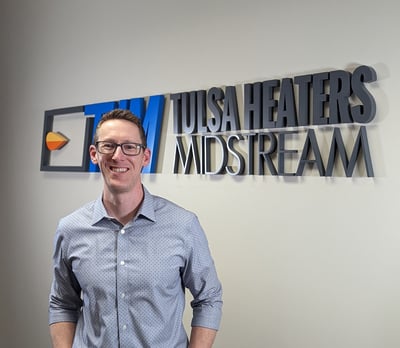 "I am delighted to see Justin in his new role," said Doyle Bishop. "He and I have been working together for over 15 years, and he has been instrumental in growing this business with me since its inception. I couldn't be more confident than I am with Justin's leadership."
Justin has been with THM since its founding in 2014, serving customers in a sales and engineering role. He has over 15 years of experience in the oil and gas industry, with a focus on heat transfer and combustion-related equipment.
"I am extremely honored and excited to move into this new role," said Justin Forth.
"THM has had incredible growth since the beginning, which I believe is an outcome of two main things that are interconnected. First and foremost is the team of people that work here. And second, each and every person here strive to live out our culture of a servant's heart to our customers and each other. I look forward to continuing to build on the legacy that has been passed down to me."
View Doyle Bishop's candid interview with Justin Forth sharing highlights of his time as president of Tulsa Heaters Midstream.